Construction has started on North Carolina State University's Raleigh campus, a $180 million Integrative Sciences Building expected to open in 2026. The building will provide transformative new space for lab-based science programs such as chemistry, biochemistry, biology, agriculture, sustainability and engineering.

Moseley Architects, the architect of record, says the 153,000-square-foot facility will support a collaborative research environment for undergraduate and graduate students, faculty and staff. Each of its five floors will be highly interactive, with no separation between research and teaching. The programs housed in the building will focus on collaboration, inquiry-driven coursework across disciplines, communication and leadership, diversity and workforce development.
Laboratories are being built on two floors and a science gallery and event space is planned on  the first floor. The second floor will house advanced laboratory space, making possible the integration of physical and life science research.
The biggest campus construction project for the next half-decade began over the summer, with site preparation for the home for the ISB, an interdisciplinary showplace for innovation and education in the old footprint of Harrelson Hall.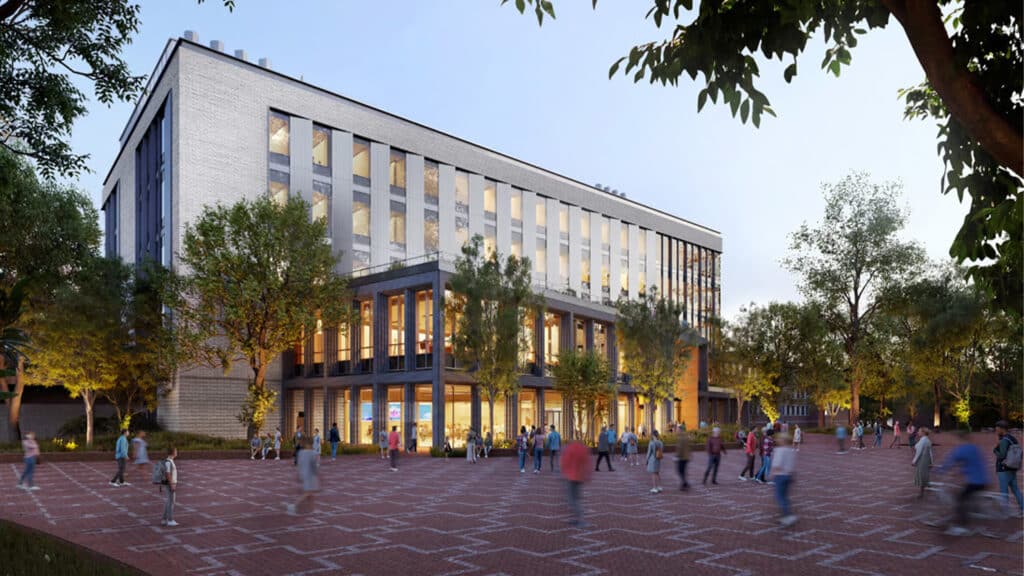 "The Integrative Sciences Initiative (ISI) will transform teaching, research and discovery in chemistry and other STEM fields at NC State by employing the latest technology, solving major societal challenges and training a new generation of interdisciplinary scientists ready for every future opportunity," says the office of Provost Warwick Arden.
Work on the $180 million, 153,000 sq. ft. project — with half of the funds coming from the State of North Carolina and half coming from NC State fundraising — began when crews from project construction manager Skanska Inc. began excavating the site over the summer, one of several construction and renovation projects that greeted students and faculty when they returned to campus in August.
Preparation and construction are slated to continue through 2026. Move-in and occupation are slated for 2027, says Assistant Vice Chancellor of Design and Construction Cameron Smith.
The ISB will be the first new building on main campus since the $36 million, 119,000 square-foot SAS Hall opened in 2009 on Katharine Stinson Drive. It will be a modern replacement for Harrelson Hall, the 64-year-old circular general education building that was demolished in 2016.